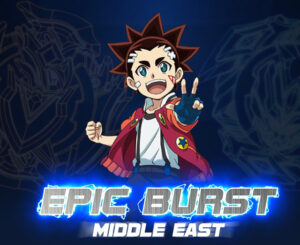 EPIC BURST ME
#epicburstme
"The most awaited Beyblade contest is now open for GCC and Jordan Fans. Show your Epic Burst and win the Title and exciting prizes"
Step 1: Shoot a video of your epic burst
Step 2: Upload on YouTube and Instagram and
add "#epicburstme" in the description
Step 3: Follow our Social Media pages for winner announcement.
"Your video must be epic to stand a chance to win the prize"
Start Date: July 1st
End Date: July 31st
Winner Announcement: August 5th
Your entry will be rejected if any duplicate blades are used is in the video. This contest is for only the original Takara Tomy's BeyBattle Burst Blades distributed by TOYPRO.
Your entry will be rejected if we are not able to identify the blades and accessories used in the video or if any duplicates are used.
We will be using "#epicburstme" search on YouTube and Instagram to find your videos. So it is compulsory for you to add "#epicburstme" on your video description.
Slow motion videos and minor effects and edits are allowed.
Spacetoon TV- Media Partner
ALGT – Our distribution partner in UAE, Qatar, Bahrain, Oman and Kuwait
ToyCity – Our distribution partner in KSA.
Habanakeh – Our distribution partner in Jordan
TOYPRO is organizing the contest and will hold the full rights to change or edit the dates, change or edit the rules, remove or report unethical contents.
By participating in the contest you agree your video, post or content to be used by TOYPRO for re-sharing and other marketing or advertising purposes.
Kids who are having their own Social Media account will take their parent's permission before participating in the contest.
This contest is kids friendly and inappropriate contents will be reported which may result you getting blocked from the respective platforms.